Purchases made through my links help support this website, at no additional cost to you.  Details.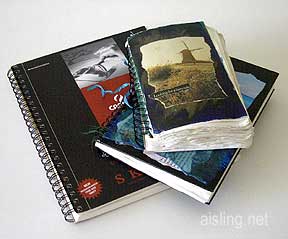 Gesso can be a useful for art journaling as well as painting and mixed media art.
I use gesso often when I'm creating heavily embellished pages in my art journals.
(Usually, I use Liquitex gesso, or whatever comes from a reliable brand, isn't too water-y,  and is inexpensive. See my current recommendations at the foot of this article. They're what's in my studio, and – as I'm updating this article – HandyArt gesso delivers the best price-per-ounce.)
If you're doing a lot of embellishing and layering, gesso can provide more support. It can strengthen the paper you're working on.
However, you don't have to use gesso on your art journaling pages.
In fact, most artists never use gesso in their journals. I only suggest it if you're working with thick paint, heavy embellishments – like magpie journals and junk journals – or mixed media.
What is gesso?
Gesso is a primer, meaning it's the first layer you might apply to the surface you're working on, whether it's paper, wood, canvas, or something else.
Gesso looks a lot like paint, and it goes between the surface you're working on (the support) and whatever you're using for your artwork.
Originally, gesso was white. Only white. Artists put it on surfaces such as:
Canvas
Wood
Hardboard (such as masonite, MDF, or plywood)
On wood and hardboard, gesso works a two-way barrier.
 It prevents the board from soaking up the paint too much.
 It also prevents any acids, oils or glues from migrating into your finished painting. (The latter could spoil the colors.)
On canvas, gesso prevents the fabric from soaking up the paint. The colors won't bleed, and you won't use as much paint.
That's a good reason to use gesso on paper if you're painting in your art journals: You'll have more control over the color, and you'll save money on paint. (Generally, gesso is a lot cheaper than paint is.)
Gesso makes the surface a little stiffer. It can also give the surface a little more texture (called "tooth"), so the paint sticks better.
Today, gesso comes in many colors. White is still the most popular, but black and colors are also used for art journaling and other art.
So, the gesso can be part of your finished art journaling page, too. Here's an example: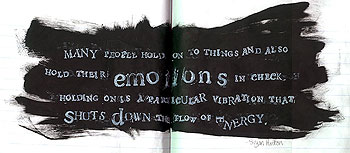 Gesso is useful for mixed media artwork, too. When I'm using a cigar box as the support for an art shrine, I almost always cover it with gesso, unless the design on the box is going to be part of the finished shrine.
(Also, some wooden cigar boxes look spectacular if they're simply polished, so the wood shines around the art and embellishments you add.)
What's the difference between gesso and regular paint?
Gesso is usually thinner and creates a slightly rough surface when you apply it.
A quick history of gesso, and some recipes
Long ago, artists made their own gesso. They mixed calcium — like chalk — in a thin base of animal glue.
Yes, it was rather smelly. It also had to be shaken or stirred regularly, because the chalk quickly settled to the bottom of the mixture.
I don't recommend making your own gesso, but if you want to try it, here are a couple of websites with recipes:
When you see religious paintings and icons painted on wooden supports, gesso is probably underneath the artwork. That gave the wood some "tooth" so the paint stuck to it (and didn't peel off), but it also kept the paint from sinking into the grain of the wood.
By the mid-20th century, gesso began to change. In 1955, the first water-based acrylic gesso was created by Liquitex, the paint company. That gesso could be used underneath oil paint and underneath acrylic paint.
In recent years, some artists have questioned whether or not acrylic gesso should be used under oil paint.
That's not an issue for most people working in art journals. We're usually using acrylics and watercolors, or other water-based media.
However, if you also work with oil paints and want to buy just one gesso for both, discuss this with someone who's current on this topic. (Or, look it up online to see what the latest theories are.)
Gesso and art journaling

As many of us began art journaling, we found new uses for acrylic gesso. For example, it's ideal for use under collages.
Note: The acrylic/oil issue shouldn't affect art journalers who use oil pastels and crayons over acrylic gesso.
However, since the oil in oil paints, oil pastels, and similar products can weaken the paper in your journal, it's a good idea to treat the paper with a coat of gesso, first.
When I journal, I use white gesso most of the time.
I've also used black gesso as part of the finished work. Here is an example of a page with black gesso on it. It's from my Decluttering Journal.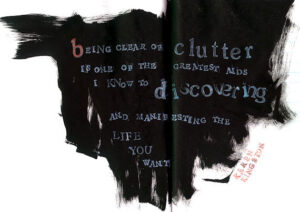 I used rubberstamp letters (alphabet letters) and an opaque white stamp pad. I also added details with a white gel pen. The "tooth" (rough texture) of the black gesso can work well with opaque gel pens, such as Sakura Gelly Roll pens.
How to use gesso

Like paint, gesso can get messy.
1. Spread newspaper on the desk, table, or floor where you're working, just in case.
2. Shake the gesso container so it's well mixed. Whether it's acrylic gesso or traditional gesso, it's still likely to separate.
3 Because gesso is water-based, you can use a regular brush to paint it on. I use a sponge brush for fast coverage.
4a. If you're art journaling, apply a thin coat of gesso to one side of the page. That's usually enough.
4b.  OR, if you're using heavy embellishments and the page needs to be very strong, use gesso on both sides of the page. Depending on how thick the gesso is,  you may need to apply more than one layer to each side of the page.
Remember that the binding of your journal is also subject to wear & tear. Sometimes, especially when it's a spiral-bound journal, I'll paint gesso out to the edges of the page, including around the holes where the wire is.
Also, an art journal with heavy embellishments will only hold up to a certain amount of page-turning. You may want to limit how many people handle it.
In my classes, I often pass around my journals so people can look through them. I closely watch the condition of my journals, and "retire" them from classroom use when they start to show signs of stress.
Cheap gesso has more water in it and will take longer to dry.
If you're going to apply gesso to the back of the page, too, be sure to let the paper dry completely before painting that second side.
Otherwise, you'll seal in moisture and actually weaken the paper.
Does price or quality matter?
No two people are likely to agree on this topic.
When I'm using white gesso — which is most of the time — I buy whatever's cheap. (Currently, that's Liquitex.) It works fine for my art journaling pages.
I often buy gesso in large tubs — like ice cream containers — to save money. As long as you put the lid back on securely, gesso stores well.
That's sort of the best of both worlds: By buying in bulk, I get the best price for a higher-quality gesso.
When I want a colored gesso, especially black gesso, I spend considerably more and shop for very good brands.
In addition, I've tinted small amounts of cheap white gesso for special projects.
How to tint white gesso
I start with a jar or paper cup that's partly filled with white gesso.
Then, I slowly add coloring until I achieve the color that I want.
For color, I've used:
*Remember: If your Kool-Aid contains a sweetener, that can attract paper-munching insects and rodents. So, be sure it's UNsweetened, not artificially sweetened.
Getting fancy
You'll find other kinds of gesso, each created for different kinds of art. (I don't use them for art journaling or mixed media collages, but you may have a use for them.)
In addition to colored gessos, some companies make a "hard gesso." It goes on thick and can be sanded to a smooth finish. It would be too heavy for use on regular journal pages, but it could be useful on a heavy journal cover or other rigid support.
Gesso powder will mix into acrylic (and other) gessos to make them heavier, thicker, textured, and so on. This isn't easy to find, so I can't recommend it. Not for art journaling, anyway.
Gesso – Summary

Gesso is the primer. That is, it's the first layer in some art. It helps paint stick to any surface, including paper, cloth or board.
Gesso prevents paint from soaking into your art journaling pages.
Gesso strengthens paper so that you can apply layers of collage and heavier embellishments.
You don't have to use gesso, ever. It's just an extra tool for certain kinds of art journaling.
I don't use it for all of my mixed media art journaling, but definitely for my heavier, layered pages.
BRANDS I'M USING RIGHT NOW
If you have a question, or want to share your own experiences with gesso, leave a comment below. Thanks!