[Note: I  may earn a commission if you purchase something I've linked to.]
When I sit down (or work at my standing desk), I like all of my supplies tidy and well-organized.
If I have to interrupt my creative flow to search for a particular brush, or paint, or adhesive, or collage element, it can take far too long to get back "in flow."
Here's what's on my desk as I gather inspiration for my next collage.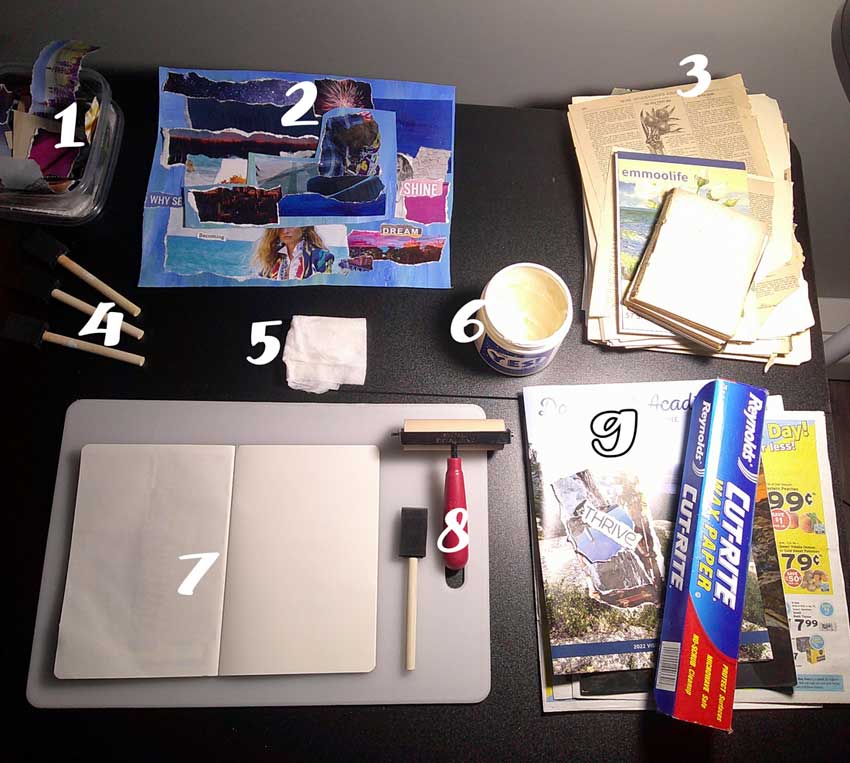 1) A container of bits of paper, often leftovers from previous collages. I've saved them because I love the colors or subjects of those images. They're too wonderful to throw away; I'm likely to use those bits in later collages.
2) Currently, those are pieces of a failed mixed-media painting. I'd created it on canvas. Then, about halfway through the work, I realized I didn't like it. It was the wrong background and the wrong scale for my torn-paper art.
So, I'd cut up the canvas and now the pieces are sitting in front of me, in case there's a way to use them – whole or further cut/torn – in a future work.
3) Vintage paper and stickers that look like vintage paper elements. In my current art journal, I'm phasing from art that's very vintage, to partially vintage, and – eventually – all contemporary elements.
Well, maybe. I'm not sure… yet. This kind of art evolves. I don't start with a clear vision of what I'm creating.
4) Sponge brushes for applying adhesive to my collage elements. I look for sponge brushes with a lot of support inside the sponge part. I use those same brushes for painting, too, and I'm scrupulous about washing them to get at least four or five days' work out of them.
5) A very damp, folded paper towel. Every time I pick up a collage element that has adhesive on it, my fingers get sticky. The damp paper towel makes it easy to keep my fingers clean as I place each element in the artwork.
6)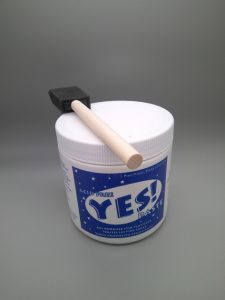 Yes! Paste, which replaced the gel painting medium I used for this work in the 1990s and early 2000s. (Thanks to Nancy Hansen Connolly and Milan Merhar for recommending Yes!)
This paste is easy to work with, rarely causes the paper to buckle, is repositionable, and easy to clean up.
It actually holds somewhat heavy (non-paper) items on my mixed-media works, too. (For example, the feather in my art journaling page of 5 Nov 2022.)
Yes! Paste has made collage and mixed media art so much easier for me!
7) I'm currently working with a series of 30-page blank journals. They're designed as travel journals, but – for me – they're perfect for daily collages. And, at a price of around US$1.25 per journal, I'm comfortable being impulsive with them; if one turns out badly, it's not as if I've ruined a fancy, leather-bound journal.
8) A Speedball Deluxe Soft Rubber Brayer, used with wax paper, to smooth the elements as I paste them in place. My brayer has a 3.5″ wide roller, and it's just the right size for my torn-paper collages.
9) Miscellaneous papers:
Torn-paper elements – words and illustrations – selected ahead of time because they sort of "sing" to me. Sometimes I use them. Sometimes I don't.
Junk mail, to go under the collage elements as I smear Yes! Paste on the back of them with a sponge brush. I keep turning and folding each page of those sale flyers and mailers, to get the most from them before putting them into the recycling bin.
Wax paper, to go on top of the collage element but under the brayer, so the element is smooth on the paper (and well-adhered) without making a mess.
A few extra magazines and tourist brochures/booklets, for images and words to use as I work.  (Tip: Tourist booklets often have the best, most upbeat words for this kind of work. I keep a huge bag of them by my desk, and pick up more every time we're near a tourist visitors' center.)
So, that's what I work with. It's how I've created my collages for over 20 years, and it's a system that's worked well for me.  You can see more of my collages from the past year or so, at my Eibhlin.com website.
(My real name is Eibhlin, pronounced "Eileen." I'd adopted the "Aisling D'Art" pen name in the 1990s, when few women were online, and it seemed prudent to protect my privacy. Then, when the Aisling name became associated with the art journaling movement, I kept using it.)