Purchases made through my links help support this website, at no additional cost to you.  Details.
I created this pendant shrine for a friend. The symbols in it are specific to her interests.
When I started this project, I knew that I wanted to make a pendant/shrine using a matchbox, a Premo-covered book, and strung with hemp and glass beads. The results are fabulous!
Here's how it looks: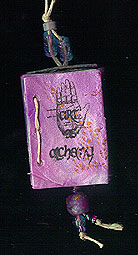 the Ishtar shrine/pendant

the cover opens to a small book


the inside of the matchbox slides out
Inside the shrine, there is a figure of a goddess, plus two tiny, actual candles.
The pendant is made from a matchbox covered with Premo (polymer clay) & gold leaf. The images on clay were applied from laser prints, with gin.
The book was printed on paper, folded & bound with muslin, and glued inside the covers, then bound with hemp twine, also used for beaded strands.
Inside the matchbox, the shrine is on plush black velvet with a photo image of an ancient Ishtar figure.
I used birthday candles (burned) in Premo candleholders, glued into the shrine.
The beads are glass, or made from Premo and gold leaf.
It was a successful gift for a good friend.