Purchases made through my links help support this website, at no additional cost to you.  Details.
Journaling is included in this TED talk about the "happy secret" approach to living a more fun, productive, rewarding life.
It starts with how you feel, and how positive you are.  Your emotional level — how happy you are — determines how happy your life events are.
Click the Play arrow to watch it.  The video is about 12 minutes long, and very worthwhile.
If you're in a hurry (though I hope you're not), the screenshot below shows you the point to fast-forward to.  Start at about the 11 minute marker.  (The graphic, below, is a screenshot… click on the video above, to watch it.)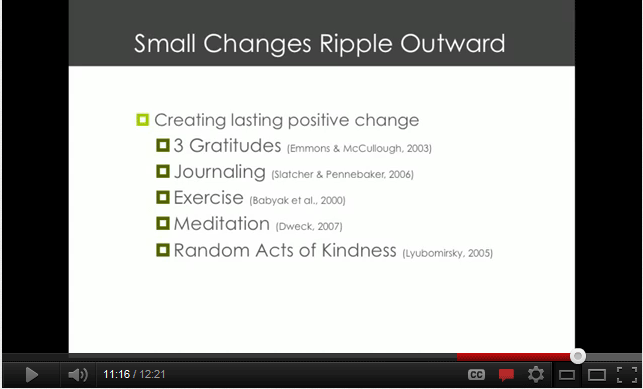 All of those suggestions can help.
Of course, "meditation" will mean different things to different people.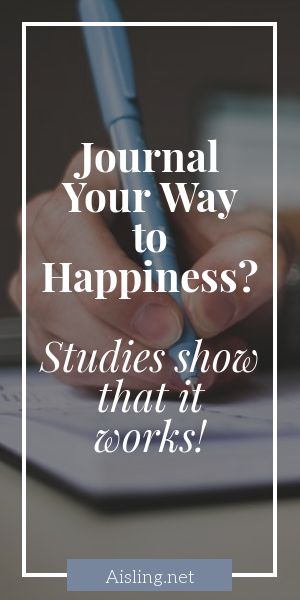 They may include things like:
Prayer
Conscious meditation
Admiring art in a museum, gallery or studio, or even
The simple act of "being there"… being in the moment.
I believe the more of these elements you can include in your life, the happier you'll feel.
Journaling each day — making notes (words, images, a recording, etc.) about one happy event of that day — can make a big difference in your happiness.
The studies were based on a 21-day practice of… well, whichever of those choices seem most appealing to you. 
Sometimes, people will become happier the first day.  Others will need to develop the habit, and — somewhere around day 21 — the person will pause and realize that she (or he) is feeling happier.
Colors seem brighter.
There seem to be more opportunities, more fun, and more whimsy in daily life.
Serendipity is in your favor, and life is better.
Maybe you can journal your way to happiness. It's worth trying.