Purchases made through my links help support this website, at no additional cost to you.  Details.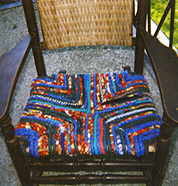 This rocking chair is called a Lincoln rocker by some, and a Kennedy rocker by others. It's the same design that Jack Kennedy had in the White House. He felt that it helped his back.
The restored chair is shown at right.
This particular chair came from a yard sale on Boston's North Shore (an area by the ocean, north of Boston) and it cost $60 many years ago when my younger daughter and I found it. She could "see" me rocking in it, and so we brought it home, propped in the trunk of my car, and held in place with nylon camping rope.
The chair was well-used and well-loved for several years, until — as shown at left — the dry woven seat finally began to sag and then collapse.
I was dismayed, and knew that I wanted to do something wonderful with the chair, and make a present of it to my older daughter. It seemed naturally to belong to her, after awhile. I don't know why, but certain things are very organic and clearly "belong" to certain people.
When we were in a bookstore in Stratford-upon-Avon (England) in 1996, I saw an inspiring book, Country Rag Crafts, which I bought and shipped back to the States.
The book included instructions for a woven footstool. As soon as I saw the color photos, I knew that was what I wanted to do with the rocking chair… with different colors, of course.
First, I wrapped fabric strips around (and around, and around) 3/8″ sisal rope ("seagrass" in the UK). As I wrapped, I secured the fabric with hot glue.
Then I wove the seat, in a fairly intricate design that gives maximum coverage with minimal bulk. The design starts at the corners and works in.
The entire project took about three days, working about three hours a day. I worked on it while watching favorite old movies.
The fabrics include glittery pieces and plush black velvets, but mostly cottons. One of the fabrics is a blue calico that I used in the first quilt that I made for my older daughter when she was born.
Some of the fabric is part of a seat covering fabric collage, which used to be on the back seat of our art car, called the "Glittermobile."
There is also a Disney fabric woven in, with a yellow background and Mickey Mouse faces here and there.
These are the things that are a personal "signature" in fabric art, and while I know what they mean (and my family does), they're our secret when we look at what I have woven.
The rocker is comfortable, and it's in my older daughter's home. I'm very pleased with the results. And I hope this chair lasts a long, long time before it needs a new seat again.