Purchases made through my links help support this website, at no additional cost to you.  Details.
Q. If someone is new to dollmaking, what's your best advice?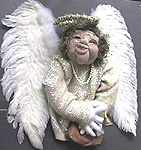 Go for it. Don't worry about how it is done by others. Experiment first, create your style, then read what others have to advise.
Some of the best things I have done I have done not knowing the correct way. I feel there is more creativity when there is more freedom.
Sure there are some things you will need to know for some projects but take a look at the best known doll artists their work is unique.
Do your own thing. Be unique.
Q. What book or books would you recommend to a new dollmaker?
Any and all of Susanna Oroyan's books : Anatomy of a Doll, Designing the Doll, Finishing the Figure.
Q. What tools or products do you recommend for the best possible results?
For needle-sculpture–good value NEW nylons, never support hose. Or, a very stretchy swimsuit fabric, or loose weave linen. A small-eyed slender long strong needle, and upholstery thread.
The glues I prefer are for fabric, Fabric-tac by Beacon. For gluing embellishments of different materials together, I like E-6000 or Goop.
I don't like to use hot glue because it does not stand up to temperature changes. Many times my wreaths are hung outdoors.
Q. How and where do you sell your dolls?
I sell my dolls at fine art and craft fairs, and I have a booth at a local craft mall. I will soon be opening a portal at the www.CNYDAG.com. I have received a few orders from people who are members of the doll lists as well. (I would like to sell on eBay, but haven't yet.)
Q. Where do you see your dolls going in the foreseeable future?
In the future I  hope to take part in selected Fine Art and Craft shows. I also hope to be able to take part in a doll conference.
The portal at the www.CNYDAG.com website will link the viewer to my www.picturetrail.com/whatanexpression site. In the future I hope to have my own web-site.
I would like to have photos of my work in national publications. My long, long term goal is to be a dollmaker that is as well known as elinor peace bailey! I want to continue to make more expressive wreaths as well as design more one-of-a-kind dolls, each with a full body.
I want to expand the media I use. Of course I will continue with cloth and needle-sculpture, but also want to do more with polymer as well as other clays and papier mache'.
I love the Bossons Heads that I  purchased a couple of while we were in Germany. I would love to do a line similar to those… only "ala Alice".