[Note: I  may earn a commission if you purchase something I've linked to.]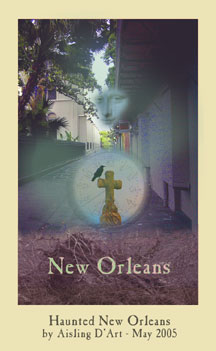 This is my personal journal entry about this artist trading card:
After a research trip to New Orleans, the mood and style of the French Quarter are still fresh in my mind.
The background is my photo (taken from Royal Street, at Pirate's Alley) from our recent trip. The woman's face is the Mona Lisa; I love how different she looks in various contexts. The crow on the New Orleans' cemetery monument is from my January 2005 visit.
Layered over that, I placed a very subtle–mostly transparent–watch image from a 19th century Sears Roebuck catalogue. And, at the lower front, I altered a photo of tree roots from a Stratham, New Hampshire nature center.
The font for all text on the card is Casablanca Antique.
The original of this digital art included ten different layers, more than half of them partially transparent, to get these effects.
—
To print this card, right click on this link and save the image to your hard drive, and then print it at home. The original image is 3″ x 5″ at 300 dpi. (This is a larger file than I usually post, a little over 1MB.)
You can print the art as a small poster (at 150 dpi) if you like, or at its intended size of 3″ x 5″, or you could scale it down to a more traditional ATC size of 2.5″ x 3.5″.
I retain the copyright on this image, of course, but you can freely print it for your own non-commercial use, as long as you don't alter it beyond rescaling the size.
[Note: I  may earn a commission if you purchase something I've linked to.]