Purchases made through my links help support this website, at no additional cost to you.  Details.
This year, we chose some real, alternative Christmas tree options.
We had two trees in our living room. (I've always preferred to have more than one tree for the holiday season.)
One "tree" was actually a bunch of small branches, arranged in a large glass jar, so they looked like a small Christmas tree. I'd picked up those branches at a nearby Christmas tree lot, where they had a stack of extra, odd-shaped branches in a pile to go to the trash.
We decorated that arrangement with all the normal Christmas-y things, including a lot of small, sparkly, multicolored ball-type ornaments. The size suited the small scale of the tree design.
To visitors, it looked like a normal, small (2 – 3 foot tall) Christmas tree.  We liked re-purposing discarded branches to create it.  It felt very "green," on several levels.
Our "Charlie Brown" Tree
Our other tree involved some serendipity.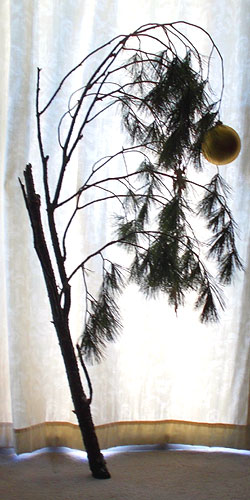 I was out for a walk, and noticed a wonderful, large branch by the side of the road.  It was about four feet tall, and I think it had been pruned from someone's pine tree.
I brought it home and found a really large, gold, globe-type ornament to hang on it.
(It drooped, naturally.  It's the way the branch had curved on the original tree… it's not sagging or anything.)
The effect was almost exactly like the little tree in the Charlie Brown Christmas Special.
I propped it against the wall, in a shallow bowl of water.  It lost absolutely no needles during the holidays, and it's still pretty soft & flexible, now.
This afternoon, I'm taking this little tree and our jar of branches to the nearby woods, so the branches return to nature.
These were among my favorite Christmas trees ever, and no trees were killed (or money spent) to enjoy them in our home.
I think this is the beginning of a tradition in our home, and it just sort of happened this year, because I wanted a couple of small trees that fit the size of our apartment.