Purchases made through my links help support this website, at no additional cost to you.  Details.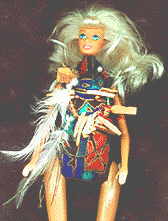 Barbie® brings out the worst in me, sometimes. This is a good example.
She's not quite Toy Story, but she certainly is strange.
I replaced her torso with a cloth body, and reinforced the (cloth) neck so it will hold her head up.
Her arms and legs are jointed, attached at the hips and shoulders with antique buttons.
She is a new Barbie that I bought for this purpose, so she has bendable knees, too.
The reinforcement in her neck makes it possible for you to angle her head how you'd like, too.
Around her neck I've hung a "fetish"-type necklace that I made from glass and wooden beads, bits of fabric, and feathers.
She already has a few (removable) "Voodoo" pins in place. The next owner can decide what to do about that.
(I mean no disrespect to those who practice Voodoo, Hoodoo, Vodun, or any related spirituality. This doll is pretty far removed from those actual beliefs and practices.  She's more closely related to the tourist-y "Voodoo" dolls sold in very commercial shops in New Orleans & Salem, MA.)
In my mind, this doll was created to amuse everyone who's ever shuddered or sighed when dealing with airhead blondes (by nature or nurture) who aspire to be Barbie.
I also say that with the greatest respect.  In the 1960s, I desperately wanted to grow up to look like Solo in the Spotlight Barbie.  Instead, I looked more like a very skinny Pitiful Pearl, for most of my teen years
Mostly, Voodoo Barbie was made for every mom who's spent two weeks hitting every Toys R Us in the state, looking for the exact Barbie doll a little girl asked for, for Christmas. (Not that I ever did that, mind you. Ahem.)
In this redesign, Barbie's cloth torso is a "normal" size and shape. In other words, the chick has hips. This makes her legs far enough apart to straddle New York City, but I like the effect.
It makes her look just a little off-balance and dangerous, and perhaps more normal… whatever that is.
She now lives in the home of a doll collector who appreciates this kind of art.
I have three more Barbies that I view with a slightly deranged look, on days when stress catches up with me!