Purchases made through my links help support this website, at no additional cost to you.  Details.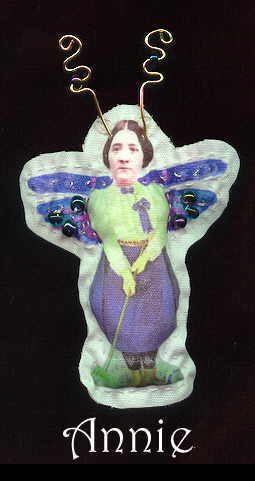 This is one of a series of pin dolls that I  made by hand.
First, I create my doll collages digitally, using antique photos and illustrations.
When I'm pleased with the design and colors, I print each doll onto iron-on transfer paper.
Next, I apply each doll design to cotton, usually unbleached muslin, raw silk, or a light-colored cotton.
The edges of the fabric are treated with Fray-Chek, a product that prevents the edges from fraying. (You can find it in any fabric shop or sewing supply store.)
Then I sew, quilt, stuff, and bead the doll by hand.
(This is a very relaxing activity, and I often assemble my dolls when I'm traveling by airplane.)
Finally, I add the beaded antennae and a simple pinback, so you can wear the pindoll as jewelry, or attach her to a curtain.
Because these are sewn, quilted, and beaded by hand, not machine, each doll is slightly different, and one-of-a-kind.
These dolls are three inches tall without the antennae, and nearly four inches tall with them.
This design includes the face of my great-grandmother, Annie Maloney Morey. She was a wealthy young woman who eloped to America (from County Cork, Ireland) to marry her True Love, a dashing local lad with eyes the color of the Caribbean and the reputation of a rake.
They had six children and lived happily ever after.
(These "Annie Faeries" sold out within minutes at Artfest 2001.)