Purchases made through my links help support this website, at no additional cost to you.  Details.
My faerie grandmother pindoll is still among my favorites. That's partly because the doll's face belongs to my paternal grandmother.
I wanted to create a happy pindoll to remind me of what I liked best about that grandmother. She'd lived to age 80, but that wasn't long enough.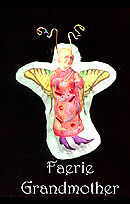 (click image to see full sized)
This is the second of a series of pindolls that I created by hand.
I printed my original collages on cotton. Then I sewed, quilted, stuffed, and beaded them by hand.  (I did a lot of this work on airplanes, as I flew across the U.S. to teach my "wild art doll" workshops.)

Finally, I added the beaded antennae and a simple pinback, so she could be worn as jewelry, or attached to a curtain.
Because these were sewn, quilted, and beaded by hand, not machine, each doll was slightly different, and one-of-a-kind.
I swapped lots of these dolls, and sold some of them at conferences such as Artfest.  If you're not sure if you have one in your collection: These dolls are three inches tall without the antennae, and about three and a half inches tall with them.
My original collages, printed on the fabric, were made with antique photos and illustrations.
This one includes the face of Mary Ann Loretta Boyle, whose family was from County Cork, Ireland.
Today, I think of her as a "faerie grandmother," sort of a fairy godmother, but with chocolate chip cookies.