Purchases made through my links help support this website, at no additional cost to you.  Details.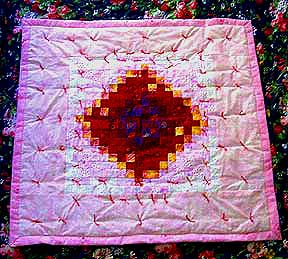 This is a baby quilt that I made in 2003. It's made with over a dozen fabrics, each 100% cotton.
Each square in the quilt is about 1″ x 1″.
It could be very tedious to make a quilt like this, but the top created with strip piecing.
This is a faster technique that works with strips of fabric, cut after they're sewn together.
Cutting, sewing, and ironing the top took about six hours, total.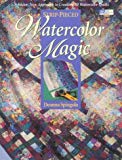 The technique comes from a fabulous book, Strip-Pieced Watercolor Magic: A Faster, New Approach to Creating 30 Watercolor Quilts. The book gives precise directions for selecting fabrics, and how much of each for the 30 projects in the book.
I selected the fabrics using a piece of clear red plastic.
(I bought it years ago. It was designed to help determine light and dark shades without the distraction of colors. I've never seen another one of these, but any sheet of clear red plastic or acetate should work fine.)
I modified the design from a pattern for a full-sized bed quilt, to create this small baby quilt for a newborn.
I use blanket-style, needle-punched quilt bats for quilts. They cost a little more, but hold up better in the laundry.
Generally, I tie baby quilts rather than quilting them. Baby quilts are laundered often and the batting starts to fall apart.
With a tied quilt, you can simply undo the yarn or embroidery floss (used to tie it), discard the quilt batting, replace it with a fresh layer, and retie the quilt.
(All of my three children loved my handmade quilts when they were little, and I learned to be practical about this.)