Purchases made through my links help support this website, at no additional cost to you.  Details.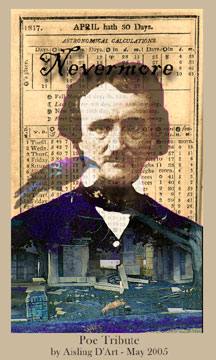 This is from my 2005 series of daily, one-hour artist trading cards, also called ATCs.
In 2005, these were an alternative to "morning pages," an affirming art journaling process based on Julia Cameron's The Artists Way.
Artist's notes
For some reason, I was in an Edgar Allan Poe mood this morning.
When I was little, the very first TV show that I can recall seeing was "The Fall of the House of Usher" on PBS, a dramatization of the Edgar Allan Poe story.
(I must have been about four years old at the time. I'm sure that it made an impression that is today reflected in my love of gothic art and ghostly themes.)
The background is a page from the 1817 Farmer's Almanac that I own.
Next, I added a public domain image of Edgar Allan Poe, found online and altered to suit this card. (See my Resources list, below.)
I used this image in my Edgar Allan Poe Shrine several years ago. The raven on his shoulder is from that shrine as well.
Over his torso, I placed an image from a New Orleans cemetery. When I first saw this falling-apart grave, I thought of the Poe tale. As I made this art card, adding this Poe-like image seemed like a logical step. Of course, I changed the Hue and increased the Saturation; the latter by about 90%.
My Photoshop process:
I selected Poe's torso with the rectangular/select area tool, and made a copy of it.
I pasted that to a different window and removed the background.
Then I increased the contrast of the clothing so that it was sharply black and white.
Next I selected the black areas (magic wand tool) and copied them.
I pasted them as another layer, over the existing Poe clothing.
With the selected areas still outlined, I switched layers so that I was working with the cemetery image.
I inverted the selection and cut out (removed) areas of the picture that covered white portions of Poe's clothing.
Then, I flattened the image.
Finally, I added the word, "Nevermore," from Edgar Allan Poe's "The Raven," and added a drop shadow to the text.
The finished image is 3″ x 5″ but you can print it at a smaller size.
How to print this Edgar Allan Poe artist trading card
Right-click on this artist trading card link and save the image to your hard drive. Then, print it at 150 dpi if you'd like it in the original 3″ x 5″ size.
(When artists were trading art cards in Red Dog Scott's swaps, the requested size was usually 3″ x 5″. That's why this is larger.)
Or, in your printer settings, you can print the card in the more standard ATC size of 2.5″ x 3.5″ and improve the resolution as well.
This finished art is copyrighted, but you can print it freely for your personal use, as long as you don't alter the design of the card.
RESOURCES