[Note: I  may earn a commission if you purchase something I've linked to.]
This has been a transformative week… in a year of "ah-HA!" transitions and cool discoveries.
I'm re-energized and planning very cool projects.
To celebrate, I'm sharing a door sign* that I created. It's where my mind is, at the moment.
You have two options. Or you can choose both. (Why make decisions when both choices are fun…? )
You can download & print the original, black-and-white copy, and color it yourself. (Btw, neither of the prints have the "Aisling.net" text on them.) Here's the link to the printable, b&w PDF: https://drive.google.com/file/d/1_S1FyZLWtQek57OnbQiuiZAs7SJ3vbeh/view?usp=sharing
OR… You can download & print a copy of the one I colored (with colored pencils). Here's the link to that PDF: https://drive.google.com/open?id=18tXNToRKW0w1z7k9Sup-gSJ8YJscu1OK
OR… download them both!
If you'd like to share this blog post with friends, use this URL: http://bit.ly/enthusiasm4u (On a PC, right-click on the link and choose "Copy link address.")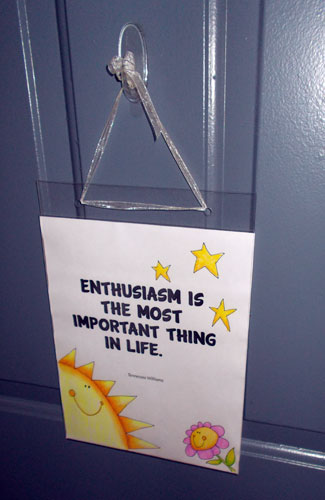 More info…
*Starting at Earth Day 2018, I decided to spread some everyday happiness with my neighbors, the UPS guy, people dropping off Amazon stuff, etc. So, I began putting a daily, decorated motivational message on my front door.
To do that, I bought a clear plastic frame thingie at Amazon. I tied a ribbon through the two holes at the top, and made it long enough to use as a hanger.
(Changing the sign, daily, is super-easy. The frame is open on three sides, so swapping signs takes less than 30 seconds.)
Then I hung it from a 3M Command Outdoor Hook (which doesn't damage the door). The illustration shows today's door sign.
So, that's one thing you can do with signs like this.
I also have them on my laundry room door, in my kitchen, in the bathroom, and in the bedroom. Because I can. And these bring smiles to everyone who sees them.
[Note: I  may earn a commission if you purchase something I've linked to.]