Purchases made through my links help support this website, at no additional cost to you.  Details.
This has been a transformative week… in a year of "ah-HA!" transitions and cool discoveries.
I'm re-energized and planning very cool projects.
To celebrate, I'm sharing a door sign* that I created. It's where my mind is, at the moment.
You have two options. Or you can choose both. (Btw, neither of the prints have the "Aisling.net" text on them, but these are copyrighted. Please don't use them commercially.)
Here are the links
Of course, you can download both of them if you like.
If you'd like to share this blog post with friends, use this URL: http://bit.ly/enthusiasm4u (On a PC, right-click on the link and choose "Copy link address.")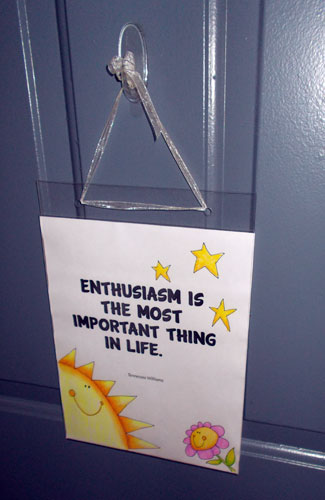 More info…
*Starting at Earth Day 2018, I decided to spread some everyday happiness with my neighbors, the UPS guy, people dropping off Amazon stuff, etc. So, I began putting a daily, decorated motivational message on my front door.
To do that, I bought a clear plastic frame thingie at Amazon. I tied a ribbon through the two holes at the top, and made it long enough to use as a hanger.
(Changing the sign, daily, is super-easy. The frame is open on three sides, so swapping signs takes less than 30 seconds.)
Then I hung it from a 3M Command Outdoor Hook (which doesn't damage the door). The illustration shows today's door sign.
So, that's one thing you can do with signs like this.
I also have them on my laundry room door, in my kitchen, in the bathroom, and in the bedroom. Because I can. And these bring smiles to everyone who sees them.