Purchases made through my links help support this website, at no additional cost to you.  Details.
This project started as my personal notepaper. Then… it sort of grew.
At first, I wrote my messages in the white rectangle in the middle. Then, I hand-colored the border design.
Last week, I realized I could print these for the children in my family, so they had an area to color, but also an area to draw in. (They're at the age where they love coloring, but they also love to draw.)
And then, I decided to make these available to everyone, free, for your personal use. (Please don't claim they're your original art, or use them commercially.)
Click on each image below, and the related PDF will open for you to download.  (These are 8 1/2″ x 11″ pages, and each graphic is linked to a different PDF.)
And then… I realized my other neighbors might enjoy this writing paper, too. So, I shared it with a sign on our front door. (The bit.ly link doesn't work now. If you're sharing these freebies, use this page's URL, instead.)
After that, I created the following sign, colored it (by hand, of course), and taped it to our front door.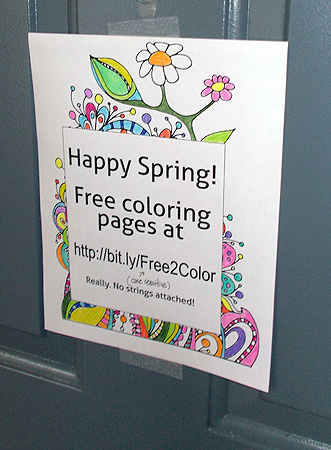 This goes along with another recent, hippie-style project for my neighbors:
Every morning during the week of Earth Day, I put a new message in one of my front windows. I printed the signs large enough so passers-by could read them when they're on their way to work, or walking their dogs.
Most of the messages came from late 1960s' and early 70s' songs… things from Woodstock and the hippie era, in general. Others reflected similar attitudes.
Here were a few of them, stacked on my floor.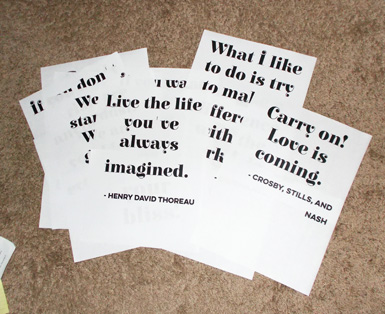 If you like this window-sign idea, the font is Elsie Swash Caps Black font, and the size should be at least 120 pts to be read by people passing by your home. (For other signs, I've used Placard GF at about 150 pts, and a few similar fonts.)
Generally, I printed them on two sheets of 8.5″ x 11″ paper, horizontal, and then I taped them together to make the window sign.
But then, I decided to create actual door signs, and color them. (They're smaller and more fun to create. Generally, I design, print, and color them in one-week batches, in front of the TV.) You can download some of my door signs – already colored, or b&w copies you can color, yourself – at my Enthusiasm is Contagious post.
These projects come from my "still a hippie" soul, with the idea that doing nice things for other people – and putting more happiness into the world – is the right thing to do.