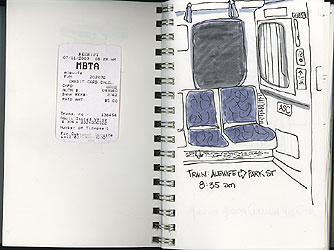 May 15th is the next Sketchcrawl — a worldwide drawing marathon. (For info: http://www.sketchcrawl.com/ )
Basically, a sketchcrawl is a full-day of drawing — in a journal or on some other art support such as paper, canvas, etc. — usually done as part of a stroll around a particular area.
A list of suggested materials is at the Sketchcrawl.com website, http://www.sketchcrawl.com/blog/?page_id=4
If you'd like a homemade mini-watercolor palettes, here's one very cool idea:
http://www.craigcassidy.com/projects/watercolor_case/
Also, Idle Minutes' blog used to have a similar, great approach. She was using a mint tin (like an Altoids tin) for an even smaller watercolor palette. Unfortunately, that webpage seems to be gone now, but the text of it is at the Wayback Machine:
http://web.archive.org/web/20070816163808/http://www.idleminutes.com/index.php/2006/05/20/make-a-mini-watercolor-palette/
In July 2009, I participated in a sketchcrawl around Boston's Freedom Trail. (You can see my sketches starting at https://aisling.net/sketchcrawl-notes-1-11-july-09/) I love-love-LOVE sketchcrawls… in the nice weather, that is!
I'll be speaking at a (non-art) conference in Canada during the May 15th weekend, so I'm not able to participate in this upcoming global sketchcrawl. However, between now & then, I plan to go on at least one independent sketchcrawl around where I live.
Sketchcrawls are great practice for creating travel journals, too. The materials & techniques are generally the same, so why not try a sketchcrawl somewhere near your home?
When I travel, I often take my journaling supplies onto the plane and begin (and conclude) my travel journals during those flights. (Just remember the four-ounce rule on liquids… no big containers of gel medium, glue, or tubes of paint.)
"Sketchcrawls!" will be the theme of my first/newest zine as I'm relaunching my art zines. So, if you have art or (especially) articles related to sketchcrawls — materials and techniques — I'm interested in including them.  Remember that my zines are generally b&w, so any art should look good when photocopied.
— from my post to the AJ2 list