[Note: I  may earn a commission if you purchase something I've linked to.]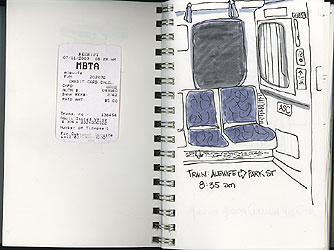 A sketchcrawl* is a full-day of sketching or drawing in a journal, or on some other art materials such as paper, canvas, etc.
It's usually part of a stroll, alone or with a group, looking at scenery in one general location.
Sketchcrawl Supplies
The Sketchcrawl.com website suggests a list of supplies for your sketchcrawl, http://www.sketchcrawl.com/materials/
I suggest:
A small notebook or sketchpad as a journal.
A pen or pencil, for drawing lines.
An eraser, if you're sketching with a pencil.
Something to add color, like watercolors (and water, and a brush), or colored pens or pencils.
Tape, to fasten ephemera in your art journal.
Snacks, in case you get hungry.
Optional: A camera (you can use your phone), in case you want to add printed photos to your journal, later.
My advice: Keep your art supplies simple and as light (and perhaps small) as possible.
Here are some ideas for making your own mini-watercolor palette:
And here are the tiniest homemade watercolor palettes I've seen, in a 16-minute video:
What does a sketchcrawl journal look like?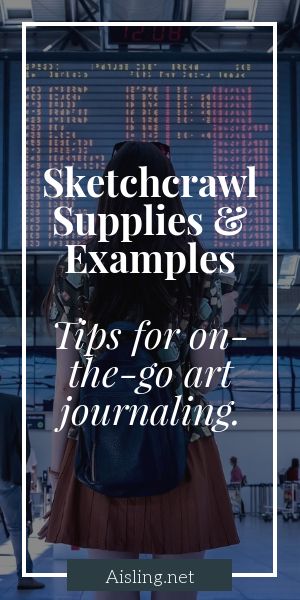 Well, in July 2009, I took part in a sketchcrawl around Boston's Freedom Trail. (You can see some of my 2009 sketches starting at https://aisling.net/sketchcrawl-notes-1-11-july-09/)
Sketchcrawls are great practice for creating travel journals, too. The materials & techniques are the same, so why not try a sketchcrawl somewhere near your home?
Then, when I travel, I take those same sketchcrawl supplies in my purse or backpack, so I can work on my travel journals on the plane. (Just remember the four-ounce rule on liquids… no big containers of gel medium, glue, or tubes of paint.)
For me, sketching – with pencil, pen, markers, or watercolors – is a relaxing way to enjoy the scenery, wherever I am. Whether it's a local scene or a trip abroad, art journaling helps me notice – and appreciate – more of what's around me.
---
*  At one point, the owner of the Sketchcrawl site claimed that the term "sketchcrawl" was trademarked. Some of us objected to that, since we'd been using the word for a considerable time before he announced his trademark plans. Updating this page, when I checked the US Trademark database, I didn't find "sketchcrawl" in it. Whew! I'm glad he changed his mind, as – at the time – it caused a rift in the journaling community.
[Note: I  may earn a commission if you purchase something I've linked to.]