Purchases made through my links help support this website, at no additional cost to you.  Details.
Last Spring, two round robin journals were launched through the ArtistsJournals group at Yahoo Groups.  The first one — Round Robin #1 (aka RR #1) — returned to me first.  It's pages have been scanned and posted.
Round Robin Journal #2 had a slightly rockier start.  The first person I sent it to… she kept it and was never heard from again.
So, I quickly replaced it with RR #2b, which had a few lulls but eventually returned to me.  However, I did take time to start this journal with a hasty, two-page collage sequence.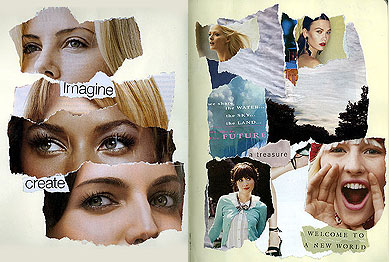 In my collages, I'm always intrigued by two things:  How expressive eyes are, and a sense of motion (or stillness) in the combined images.
The left-side page is a collection of women's faces, looking in different directions with different attitudes.  The right-side page includes a couple of images of fast-moving clouds, a leg to suggest motion, and faces contrasting enthusiasm and a sense of whimsy.
After that, I sent the journal to Alley Hauldren, who took the book on a journey.  Click here to see those next pages.